McCoy Tyner and the Mandingo Ambassadors. McCoy Tyner is true jazz royalty. He's recorded over 50 albums as a leader and, with John Coltrane, Jimmy Garrison, and Elvin Jones, created the sound which critics refer to as John Coltrane's "Classic Quartet." This group's transcendent sound completely changed the course of music. Sitting down with him for a discussion was one of the great honors of my life.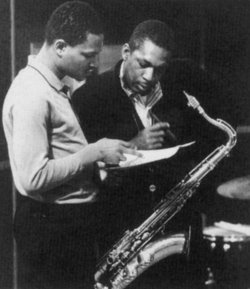 The Mandingo Abassadors are a classic band, half from West-Africa and half from Brooklyn. Their leader Mamady Kouyate, from Guinea is best known as the guitarist in the classic Bembeya Jazz National.
They were happy enough with the sound I got in the studio that they released the recordings from that session as a album:

Ismael Kouyate – vocals; Mamady Kourouma – guitar; Oran Etkin – tenor sax & clarinets; Sylvain Leroux – flute, tambin and alto sax; Andy Algire – drums; Nick Cudahy – bass and Mamady Kouyate – guitar.